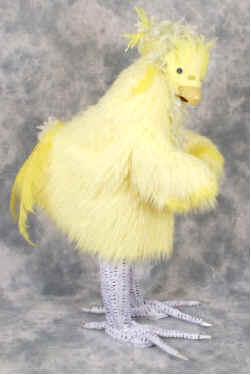 The Bird: side view
This bird costume was created from a text description only. No visual input...no discussions from the clients.
It was on display at the Barbican Art Gallery in London from May to September, 2002, as part of a show called "Game On" which is about the history and development of computer games.
I have included photos of the construction processes on another page. Go here.
This is the text description I was given.
This character looks a lot like a chicken. However, it has very large feet on skinny legs, and it looks like it is more likely to run than to fly anywhere. Its toes (3 to each foot) are long and pointed.

Its beak is shorter and fatter than that of a chicken, and a deeper shade of the yellow that colours its feathers. Its eyes are alert and friendly, and a striking blue colour. Its feathers are generally short, but it has longer plumage on its head, chest, tail and cheeks.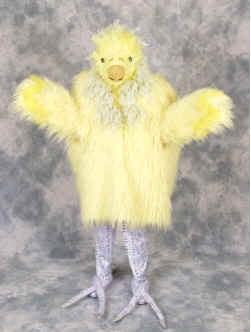 The Bird: front view
Inspiration:
When I was searching for inspiration of how the bird might look, I considered drawings of
Dodos;

a bird from a BBC cartoon called The Fiddley Foodle Bird;

and of Big Bird from Sesame Street .
This helped me get an idea of how I would go about constructing mine.

I also had a great deal of excellent advice from

an expert costumer…Bill Jones.

I know him from the Creative Machine Chat list. Thanks so much Bill.
The artists loved the costume.
Here I am at the studio in the costume, showing artist, Nina Pope, how to work the fiddly tail bit!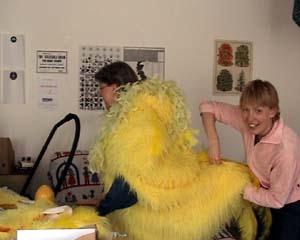 At the Private Open Evening:
The Bird, the other artist, Karen Guthrie, and me in the middle!
This is in the Gallery area. It is dark because the whole thing is really set up for the computer games.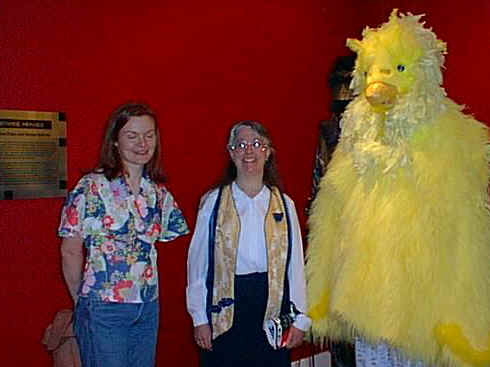 (I made the posh waistcoat for what I thought would be a "posh do". But, as it was all about computers...most everyone else was in jeans! I felt like I stuck out like a sore thumb. But, someone did ask me if I was a designer. Should have said, Yes!)
You can just make out my name on this plaque.

closer view

If you want to find out more about the artists go to http://www.somewhere.org.uk/
where you will find links to their individual work,
as well as work they have done together.

I was told that the actual character is Chocobo, from the computer game Final Fantasy. During the construction process, my son Samuel (who is into computer games) and I did some research and came up with the idea that it just might be Chocobo.
Here is a link to a photo of Chocobo in the original version of the game.
Here is a link to a photo of Chocobo in a new version.
I think mine came out looking like the newer one!
Chocobo and some of the other costumes.

with Raziel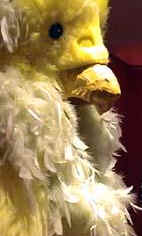 with Chin Li (2 versions), Crash Bandicoot, Moogle, and Super Mario.