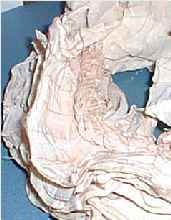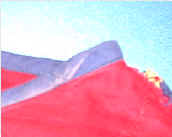 Makeup on inside ruff and costume neck edge. Physical evidence of stage use.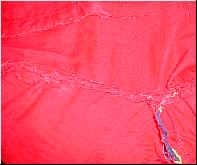 Unfinished seam edges as inside detail is not important on costume.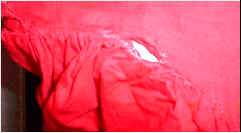 Tear at left back shoulder seam: either because the costume designed for a lad, was worn by Mr. Woollett when he was a man, and fitted more snugly; or could be the result of younger children dressing up, and perhaps tripping on the skirt, which could pull on the seams.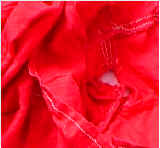 Tear at left sleeve ruffle. Either from use, or from larger man's hand fitting into wrist made for a young man.
For further (sometimes contradictory!) information on the "proper" Beefeaters, and photos of their costume, follow these links…

Yeoman of the Guard:
http://21.1911encyclopedia.org/Y/YE/YEOMEN_OF_THE_GUARD.htm

www.encyclopedia.com/printable/50897.html

Tower of London:
www.toweroflondontour.com/beefeaters.html

www.tower-of-london.com/warders/index.html

http://www.hrp.org.uk/webcode/tower_home.asp

Very special thanks to Grandad, and Pat for the loan of the costume, and for its very interesting history! I have thoroughly enjoyed studying all about it. It was a great help to have the documentation! I hope this information will be of use to future generations of your family.

Sandy Snowden